Baba Budangiri, situated at a distance of 34 kilometer from Chikmagalur is a mountain in the Baba Budan range in Chikmagalur. Also known as Dattagiri & Chandra Drona Parvatha, it is one of the prime places to include in your Chikmagalur Tour Packages. It is also known as the 'land of coffee' as the first coffee plant was grown in this region by Baba Budan. He brought the plant from West Asia and planted it in this city and as his shrine is located on top of the hills here, the hill gets the name Baba Budan Giri. Baba Budangiri is famous for its shrine, which is a place of pilgrimage for both Hindus and Muslims.
Baba Budangiri is one of the top places for trekking in Karnataka and among the best places to visit as part of 2 day trip from Bangalore. The main peaks in this range are the Mulliyangiri and Baba Budangiri. Collectively, these peaks are known as Chandra Drona Mountain Range as they naturally form the shape of a crescent moon. Baba Budangiri is known for its distinct forest range and also one of the popular places to visit in Chikmagalur for hiking and trekking enthusiasts. There is a famous trekking trail between Mullayanagiri and Baba Budangiri. Adventure seekers can hike through the forest to visit the historic shrine of Deviramma Betta. In addition to this, the hills such as Sitalayana Giri provide scenic views of the surrounding mountain ranges.
How to Reach Baba Budangiri
By Air: Mangaluru is the nearest airport (180 km)
By Train: Kadur junction is the nearest railway station (70 km from Baba Budangiri)
By Road: Baba Budangiri is 270 km from Bangalore. The nearest town is Chikamagalur, which can be easily reached in KSRTC and from there you can get private buses, which can take you to the shrine. From the shrine, there are small taxis to Manikyadhara waterfalls. Tourists will have to drive in their own vehicle to Kemmanagundi because there is no public transport or private buses connecting Kemmanagundi and Bababudangiri.
Baba Budangiri Chikmagalur (Entry Fee, Timings, Entry Ticket Cost, Price, Map & Distance)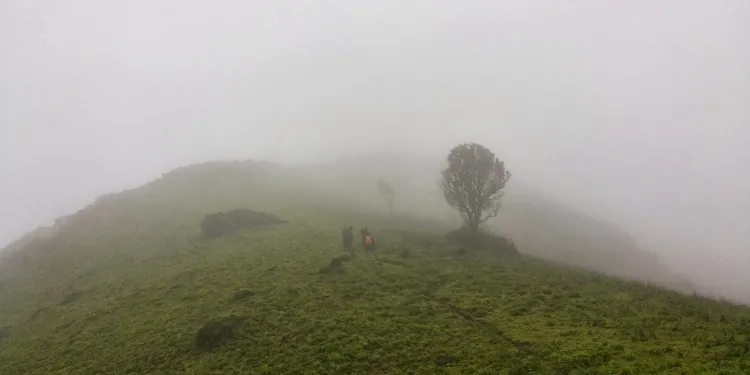 Baba Budangiri Chikmagalur Entry Fee -

Free



Baba Budangiri Chikmagalur Timings
| Day | Timing |
| --- | --- |
| Monday | 8:00 am – 5:00 pm |
| Tuesday | 8:00 am – 5:00 pm |
| Wednesday | 8:00 am – 5:00 pm |
| Thursday | 8:00 am – 5:00 pm |
| Friday | 8:00 am – 5:00 pm |
| Saturday | 8:00 am – 5:00 pm |
| Sunday | 8:00 am – 5:00 pm |