Hanumanagundi Falls also known as Suthanabbe Falls is one of the most famous tourist attractions in the Kudremukh National Park and located approximately 20 km from Kudremukh Town. The water falling down from a height of above 22 meters falling on the natural rocks majestically is an exciting view. You can have a body rejuvenating and energizing bath at this place and enjoy the beauty of calm and marvel of the waterfall. It is absolutely safe if you want to get into the water. It is awesome to visit these falls during and after the monsoon season, as the falls will be in their full glory. The falls are maintained by Forest Dept.

If you are a nature lover and want to enjoy your holiday with nature then this place is a great option with its forests and the rivers. The falls are located right next to the Mangalore – Sholapur National Highway but are not visible from the road. There is a small board at the location of the falls, but it is very easy to miss noticing that. There is a small entry fee collected by the Forest Department to go to the base of the falls. From the ticket counter, you need to get down There are about 300 steps to get a view of the waterfall. This place is filled with tourists in time of October to February. This place is a great tourist destination that is filled with natural beauty. Tourists can indulge in exploring and hiking activities in the region along with witnessing the beautiful waterfalls. Visitors are not allowed to stay inside the Kudremukh National Park and hence only day trips are allowed to the Hanumangundi Falls.

How to Reach Hanumana Gundi Waterfalls

By Air
Mangalore is the nearest airport to Hanumana Gundi waterfalls around 150 km. From the airport, one can take up buses or car to reach the waterfall.

By Road
At a distance of 26 km from Sringeri & 15 km from Kudremukh. Birur in Chikmagalur is the nearest station to the waterfalls. Birur is well connected to Bangalore and other places via Road. Bangalore is 248 km from Hanumana Gundi waterfalls and Mangalore is 150 km.
Hanumana Gundi Falls Chikmagalur (Entry Fee, Timings, Entry Ticket Cost, Price, Map & Distance)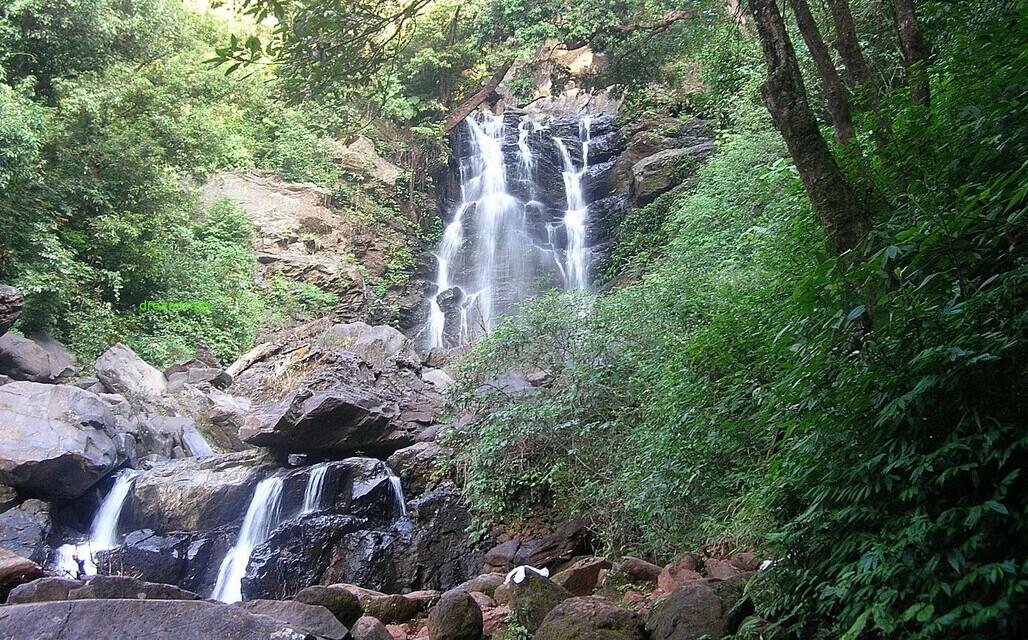 Hanumana Gundi Falls Chikmagalur Entry Fee -

INR 40 Per Person



Hanumana Gundi Falls Chikmagalur Timings
| Day | Timing |
| --- | --- |
| Monday | 9:00 am – 5:00 pm |
| Tuesday | 9:00 am – 5:00 pm |
| Wednesday | 9:00 am – 5:00 pm |
| Thursday | 9:00 am – 5:00 pm |
| Friday | 9:00 am – 5:00 pm |
| Saturday | 9:00 am – 5:00 pm |
| Sunday | 9:00 am – 5:00 pm |