Sringeri (or Shringeri) is a hill town located on the banks of the river Tunga in the evergreen forests of Chikkamangalur is one of the most celebrated pilgrimage centers in Karnataka. Sringeri was the site of the first of the four Peethas (centers) established by the great sage Adi Shankaracharya, the founder of the Advaita philosophy. Sringeri has the Sharda Temple dedicated to Sharadamba, Goddess of Learning and Wisdom. The temple is famed for the matchless beauty of the idol. Nearby is the Vidyashankara Temple which is an architectural marvel – its 12 sculpted pillars, each representing a sign of the zodiac, are placed so that the sun's rays fall on each successively, in the order of the solar months

Places to see in Sringeri:
Sri Sharadamba Temple: Goddess Sharada is associated with knowledge, music, art, and wisdom. Sri Sharadamba Temple in Sringeri has a golden idol of Goddess Sharada and other temples dedicated to Torana Ganapathy, Adi Shankaracharya, Mahalaya Brahma, KodandaramaSwamy, Hanuman (Anjaneya), Garuda, etc
Sri Vidyashankara Temple: Built entirely from stone in the 14th century, Sri Vidyashankara temple features Hoysala+Dravidian style architecture. The inner sanctum (Garbha Griha) of Sri Vidyashankara temple has Vidya Ganapathi, Goddess Durga, Brahma, Vishnu, and Maheshwara.

Places to visit near Sringeri:
Agumbe (32 km), Sirimane falls (14 km), Kundadri (29 km), and Horanadu (56 km) are other places of interest to visit along with Sringeri.

How to reach Sringeri
By Air
The nearest airport is Mangalore Airport at a distance of 108 km.

By Rail
The city Shimoga which is at a distance of 97 km from Sringeri is well connected to Bangalore through the rail route. Sringeri is at a distance of 87 km from Chikkamagaluru which is connected to Bangalore through a rail line via Kadur.

By Road
The town can be reached from Mangalore or Chikkamagaluru by a well-connected road network. Udupi is also at a distance of 82 km. Various private and Karnataka Govt. buses ply from Bangalore as well as Sringeri to Shimoga.
Sringeri Math Phone Number:
+91-08265-252525 / +91-8265-262626 / +91-8265-272727 / +91-8265-295555
Sringeri Sharda Temple (Entry Fee, Timings, Entry Ticket Cost, Price, Map & Distance)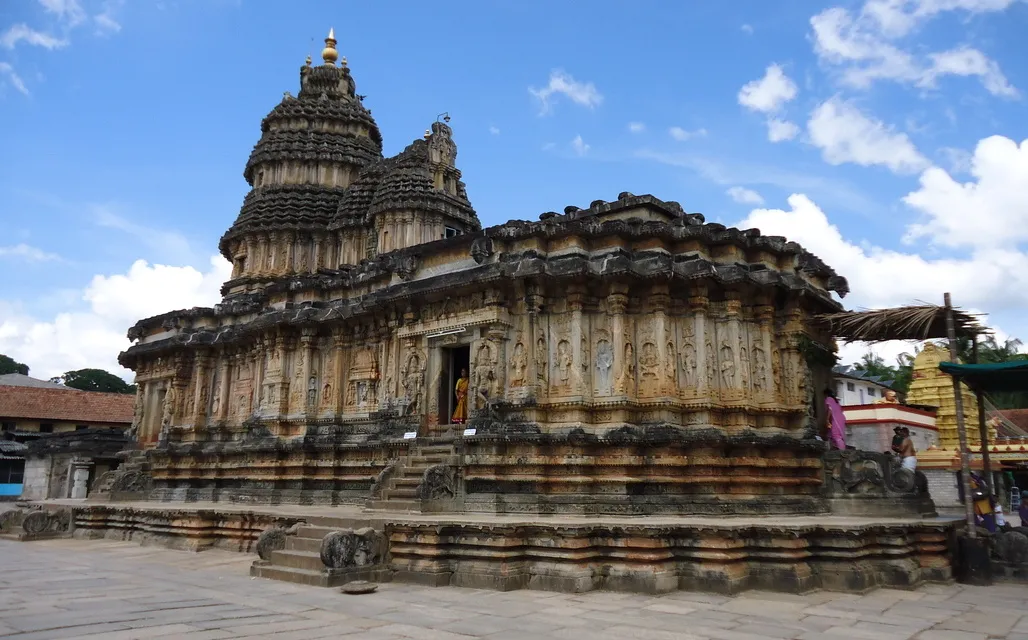 Sharda Temple Sringeri Entry Fee -

Free



Sharda Temple Sringeri Timings

Sharadamba Temple
Normal Days
6:00 AM to 2:00 PM / 4:00 PM to 9:00 PM
 Maha-Mangalarati
10:00 AM / 12:00 PM / 7:30 PM
 Other Temples
6:00 AM to 1:00 PM / 5:00 PM to 8:00 PM
Guru Darshanam
10:30 AM to 11:30 AM
Chandramoulishwara Puja (By Jagadguru)
9:00 PM to 10:00 PM (Normal Days)
8:30 PM to 10:00 PM (Fridays)