Kudremukh's range lies at a distance of 95 kilometers towards the southwest of Chikmagalur town. located at an altitude of 1,894.3 meters above sea level, Kudremukh is rich in iron ore deposits. Kudremukh literally means Horse face, so named because of the unique shape of the Kudremukh Peak. It is a perfect destination for trekking, marked by emerald green forests interspersed with rivers, grassy slopes, and rare orchids.
This hill station houses the Kudremukh National Park which came into being for the protection of endangered species of wild animals like the lion-tailed macaque and the tiger. The Government of Karnataka declared Kudremukh as a national park in the year 1987 and is a famous tourist destination. At 1892 meters the Kudremukh peak is the highest point in this National Park.  The rivers Nethravathi and Tungabhadra have their origin in this place. This peak and the forests surrounding it are quite a delight to the trekkers and adventurers.  The best time to visit this place is during the months of October to February.
Things to do in Kudremukh:
Bird-watching in Kudremukh: Over 200 species of birds reside or visit during the migratory season to the forests of Kuduremukh.
Trek to Kudremukh Peak: With permission from forest officials, day treks can be undertaken in the hills of Kuduremukh. Camping is not allowed. Hence, hikers need to return before sunset. Besides the popular trek to Kuduremukh peak, other trekking trails are Kurinjal Peak, Gangadikal Peak, Seethabumi Peak, Valikunda, and Narasimha Parvatha.
Places to visit near Kudremukh
Kadambi Falls (13 Kms), Hanuman Gundi Falls (20 Kms), Gangamoola Viewpoint (17 Kms), Sirimane Waterfalls (59 Kms) are some of the other attractions that can be visited along with Kudremukh National Park.
How To Reach Kudremukh
By Air: The nearest airport is at Mangalore (95 km).
By Rail: The closest railway station is located at Mangalore.
By Road: Kudremukh is well-connected by a network of roads to Mangalore, Chikmagalur, and Sringeri. One can drive from Bengaluru to Kudremukh National Park which is 332 Kms.
Kudremukh Chikmagalur (Entry Fee, Timings, Entry Ticket Cost, Price, Map & Distance)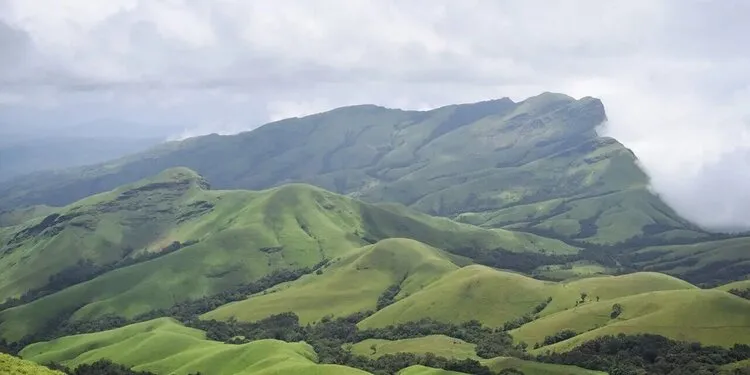 Kudremukh Chikmagalur Entry Fee - 

INR 200 Per Person



Kudremukh Chikmagalur Timings
| Day | Timing |
| --- | --- |
| Monday | 10:00 am – 5:00 pm |
| Tuesday | 10:00 am – 5:00 pm |
| Wednesday | 10:00 am – 5:00 pm |
| Thursday | 10:00 am – 5:00 pm |
| Friday | 10:00 am – 5:00 pm |
| Saturday | 10:00 am – 5:00 pm |
| Sunday | 10:00 am – 5:00 pm |