The sanctuary takes its name from the Bhadra River, its lifeline. Popularly known as Muthodi Wildlife Sanctuary, after the village on its periphery, it was declared a Project Tiger reserve. Muthodi is the southern part of Bhadra Wildlife Sanctuary and is located in one of the most picturesque forest patches here. But apart from the tiger, it is a great place to sight and observe other mammals, reptiles, and also houses more than 300 species of birds including some endemic and endangered bird species, along with many migratory birds. The sanctuary is also home to the Jagara Giant, the largest teak tree in the state which has a girth of 5.1 m with a height of 32 m and is said to be around 400 years old. The safari trail through the park passes by many waterfalls and natural pools that are sights to behold. Bhadra Tiger Reserve spans about 500 square km, spread across two districts Shivamogga and Chikmagalur districts.
Places to visit near Bhadra Wildlife Sanctuary
Belavadi ( 87 Kms ), Chikamagalur ( 78 Kms ) are some of the destinations to visit along with Bhadra Wildlife Sanctuary.
Things to do in Bhadra Wildlife Sanctuary
Jeep Safari: The forest department organizes Jeep Safari inside Bhadra Tiger Reserve. Forest Safari in Bhadra has a high probability of tiger and leopard spotting as over 30 tigers and 20 leopards are based in Bhadra Wildlife Sanctuary. 
Bhadra Dam: Bhadra dam offers great views when water is being released through its gates
Boating inside Bhadra Reservoir
Over 120 different plant and tree varieties.
Possibility of spotting a wide variety of birds, reptiles, and wild animals.
How To Reach Bhadra Wildlife Sanctuary
By Air 
Mangalore Airport is the closest airport located 184 km away.
By Train
The nearest railway station is Kadur Junction ( 50 Kms )
By Road
One can drive from Bangalore to Bhadra Wildlife which is about 285 Kms.
Bhadra Wildlife Sanctuary Chikmagalur (Entry Fee, Timings, Entry Ticket Cost, Price, Map & Distance)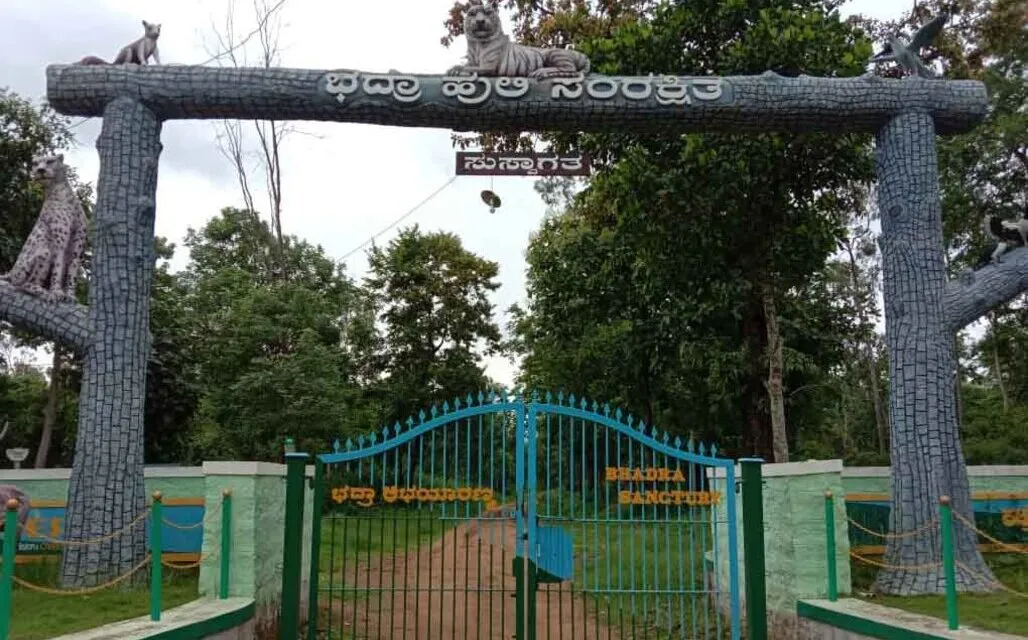 Bhadra Wildlife Sanctuary Chikmagalur Entry Fee -

INR 400 per person



Bhadra Wildlife Sanctuary Chikmagalur Timings
| Day | Timing |
| --- | --- |
| Monday | 6:30 am – 8:30 am and 3:30 pm to 6:00 pm |
| Tuesday | 6:30 am – 8:30 am and 3:30 pm to 6:00 pm |
| Wednesday | 6:30 am – 8:30 am and 3:30 pm to 6:00 pm |
| Thursday | 6:30 am – 8:30 am and 3:30 pm to 6:00 pm |
| Friday | 6:30 am – 8:30 am and 3:30 pm to 6:00 pm |
| Saturday | 6:30 am – 8:30 am and 3:30 pm to 6:00 pm |
| Sunday | 6:30 am – 8:30 am and 3:30 pm to 6:00 pm |